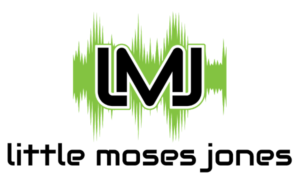 The trifecta of ingredients that elevate a show from a performance to an experience. The seven Award Winning musicians of Little Moses Jones deliver EVERY show with an abundance of those ingredients in perfect proportion. From downbeat to final bow, your party will be filled with dancing, laughter, joy and more dancing as Little Moses Jones performs highly-choreographed hits and original songs from the past to the present. Frequent wardrobe changes, professional sound reinforcement and lighting complete the picture and combine to give your guests a fun-filled celebration they'll long remember.
INFO ABOUT
LITTLE MOSES JONES
Style: Urban Soul, Funk, R&B, Top 40, Pop & More.





Instrumentation For 7 Piece: Drums, Bass, Guitar,
2 Keyboardist, Male Vocalist, Female Vocalist


Instrumentation For 12 Piece: Drums, Bass, Guitar,
2 Keyboards, Saxophone, Trombone, Trumpet,
2 Male Vocalist, 2 Female Vocalist

Award-winning national talent

Seven to Twelve piece options

Amazing show production

3 hours of Live Dance Music

Learn 3 Songs of Your Choice (I. E. for special dances)

Customized song list and attire

Emcee/Announcements tailored for your reception

Top Notch and professional service throughout your event planning
SONG LIST
Motown/Soul
Ain't Too Proud To Beg- The Temptations
My Girl- Temptations
How Sweet It Is To Be Loved- James Taylor
Your Loves Lifting Me Higher- Jackie Wilson
Chain Of Fools- Aretha Franklin
Sitting On the Dock Of The Bay- Otis Redding
Just The Two Of Us- Bill Withers
Ain't No Sunshine- Bill Withers
Shout- Isley Brothers
This Will Be- Natalie Cole
For Once In My Life- Stevie Wonder
Ain't No Mountain High Enough- Marvin Gaye
I Want You Back- Jackson 5
Good Times by Sam Cooke
I got a woman- Ray Charles
What I say- Ray Charles

70's
September- Earth Wind & Fire
I'm Your Boogie Man- KC & the Sunshine Band
Car Wash- Rose Royce
Ladies Night- Kool & the Gang
Superstition- Stevie Wonder
Shining Star- EWF
Shes A Bad Mamajama- Carl Carlton
Rubberband Man- The Spinners
Get Down On It- Kool & the Gang
Stayin' Alive – Bee Gees
Hot Stuff- Donna Summer
Let's Stay Together – Al Green
Tonight, Is The Night- Betty Wright
Brick House- Commodores
Super Bad- James Brown
Freak Out- Chic
Can't Get Enough Of Your Love- Barry White
Give it to me- Rick James
Love Train – O'Jays
5th Of Beethoven- Walter Murphy
Don't Stop Till You Get Enough- Michael Jackson
Boogie Wonderland- Earth Wind And Fire
I Can't Go for That (No Can Do) – Hall & Oates
Shake It- Little Moses Jones
Got To Give It Up- Marvin Gaye
Can't Hide Love- EWF
Fire & Desire- Rick James & Tina Marie
Fantasy- EWF
Reasons- EWF
In The Stone- EWF
What's Goin On- Marvin Gaye
You Are The Best Thing- Ray LaMontagne
Superstition- Stevie Wonder
Tell Me Something Good- Rufus feat. Chaka Khan
Strawberry Letter- Brothers Johnson
Stomp- Brothers Johnson

80's
You Dropped A Bomb On Me- The Gap Band
Can You Feel It- Jackson 5
Give It To Me Baby- Rick James
Electric Slide- Marcia Griffiths
Fresh- Kool & the Gang
Funky Nassau- Blues Brothers
Kiss- Prince
Purple Rain- Prince
Always There- Incognito
Funkin On Jamaica- Tom Browne
Rock With You- Michael Jackson
PYT- Michael Jackson
Fantastic Voyage- Lakeside
Outstanding- Gap Band
Ain't Going To Hurt Nobody- Brik
Got To Give It Up- Marvin Gaye
Skin Tight- Ohio Payers
No Parking On The Dance Floor- Midnight Star
Brick- Dazz
Back And Forth- Cameo
Before I Let Go- Frankie Beverly & Maze
Walking On Sunshine- Katrina & The Waves

90's
Finally- CeCe Peniston
This Is How We Do It- Montell Jordan
No Diggity- Blackstreet
I like The Way You Move- OutKast
Whatta Man- Salt & Pepper
Pony- Ginuwine
Family Affair- Mary J Blige
Hit Em Up Style- Blu Cantrell
I Wanna Sex You Up- Color Me Badd
Feels Good- Tony Toni Tone
Poison- Bel Biv Devo
Push It- Salt N Pepa
Family Affair- Mary J Blige
Tell Me- Groove Theory
Ascension- Maxwell
Return Of The Mack- Mark Morrison
You Got What I Need- Biz Markie
Childrens Story- Slick Rick
Canned Heat- Jamariqui

Top 40
Happy – Pharrell Williams
Locked Out of Heaven – Bruno Mars
I Got A Feeling/Just Fine – Black Eyed Peas/Mary J. Blige
Get Lucky- Daft Punk
Shake It Off- Taylor Swift
Uptown Funk- Bruno Mars
Thinking Out Loud- Ed Sheeran
The Walk- Mayor Hawthorne
Crazy In Love- Beyonce
Leave the Door Open- Silk Sonic
777- Silk Sonic
Fly As Me- Silk Sonic

Urban Soul/ R&B/ Hip Hop
Best Part – Daniel Caesar feat. H.E.R.
You Got Me- The Roots
Boo'd Up- Ella Mae
Come Down- Anderson Paak
Never Stop – The Brand-New Heavies
So In Love – Jill Scott
You Know What's Up- Donnel Jones
Wreckless Love – Alicia Keys
Colors- Black Pumas
Wish I Didn't Miss You – Angie Stone
1612 – Vulfpeck
California Dreamin- Eddie Hazel
It's Over- Little Moses Jones
Damage- HER

Blues
The Thrill Is Gone- B.B. King
Green Onion- Booker T & the MG'S
Mustang Sally- Wilson Pickett
Feeling Alright- Joe Cocker
Down Home Blues – James Cotton
Love Me Like a Man- Bonnie Rait
Gary Clark Jr. – Bright Lights
Walk This Road Alone- Litle Moses Jones

Rock
You Give Love A Bad Name- Bon Jovi
Don't Stop Believing- Journey
Aint It Fun- Paramore
You Give Love A Bad Name- Bon Jovi
Don't Speak- No Doubt

Latin
Smooth- Carlos Santana
Disco Medley- Selena


Originals
Merengue Funk- Little Moses Jones
Funky Cruise- Little Moses Jones
East Colfax- Little Moses Jones
Legendary- Little Moses Jones
I'm Outta My Mind- Little Moses Jones
Tell Me- Little Moses Jones
Until Then- Little Moses Jones
Making Crazy– Little Moses Jones
The Rain Came Falling Down– Little Moses Jones
The Rain Came Falling Down Remix– Little Moses Jones
Funky Cruise Club Mix– Little Moses Jones
City Or Country– Little Moses Jones
Perfect For Me– Little Moses Jones
Understand Me- Julius Henderson
45 (Music In My Head- Julius Henderson